With all the talk we've been doing about using social media to network and expand your business, we figured it was time to branch and highlight a different approach. The good ol', tried and true, swapping business cards and stories over a cup of coffee method.  A recent survey (which though it should be taken with a grain of salt, still has a good point) given by Moo.com, a printing company specializing in business cards, reveals that places you already frequent—including the gym, dog parks, bars and restaurants, airplanes and buses—double as networking hotspots.
Of the surveyed crowd, a collection of small business owners, 90 percent said that networking in these places provided "at least some new business" while 30 percent said it led to "a lot" of new business.
When you're attempting to build up your company through in-person networking, your business card can say a lot about you. Here are some tips to keep you better prepared to meet new clients wherever you go.
1.      Always have a business card handy. It might be annoying to add that extra width to your purse or wallet, but we're confident that it's worth it.
2.      If your business card could use a revamp, we suggest getting some inspiration from Pinterest. There are slews of modern, creative, unique, and memorable business cards to get ideas and designers from for every kind of company out there. Here are a few of our favorites:
Found here.
Found here.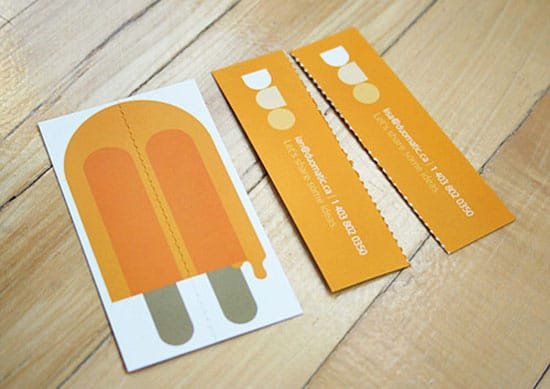 Found here.
3.      Remember that business cards are an investment, so they need to be treated like one. Rather than committing to a new card design and a box of 5000, try getting samples of a few different kinds of cards and testing the reactions. If the card that gets the best reaction is $.07 more than your other options, weigh the costs and benefits before making your final decision.
4.      A business stamp is also a good option. While we don't suggest replacing business cards with stamps, it's an effective, cost-friendly supplement. Here are two stellar examples:
Found here.
Found here.
5.      After handing out your information, treat your client like a date by waiting a day or two and then placing a follow-up call or e-mail. This shows your potential client that you are serious about their business, and also serves as a nice reminder how great your company is.
Even though social networking plays an ever-expanding part in modern business, don't forget to hone your in-person skills. Remember, a business card is often more valuable than a friend request.